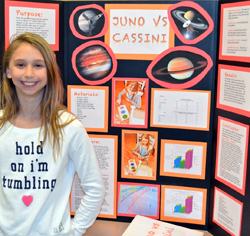 Blame it on the school spelling bee. Running into the word "astrophysicist" set this student off on a path of scientific interest and inquiry that has fueled her
science projects for the last three years.
A version of her fifth grade science fair project on the relationship between a planet's gravitational field and the speed of a satellite's rotation is now being developed as a new Project Ideas at Science Buddies!
Officers
Regional Fair Directors
Foundation Members
Top high school researchers from all over the world displayed their innovative ideas at the George R. Brown Convention Center of Houston, TX for the 2012 International Sustainable World Energy, Engineering, Environment, Project Olympiad, (ISWEEEP). Over 1000 participants shared the ideas, experience, and knowledge to promote maintaining global sustainability in near future. North Carolina had four student projects with five students presenting. All won awards!
Read more: ISWEEEP in Houston features NC Winners
Chase Lewis of Chapel Hill with the project "Rescue Travois- Saving Lives" and Emma Christensen of Greenville with her project "Saved by the Bug" were both named finalists in Disney's Iron Man 3 Inventor and Innovator Fair. As finalists they have won a trip to California for the premiere of Iron Man 3, a visit to Disneyland, trip to Broadcom Headquarters and the opportunity to share their research at the El Capitan Theatre from May 3rd to June 20th. Chad Campbell was also named semifinalists. Congratulations Chad, Chase and Emma!